Presenting our new AI Editor
Niched AI editor is specially developed for long-form writing. It can create an entire post based only on one sentence which describes what needs to be written. After the post is generated by double-clicking, you can invoke the AI frame and rewrite text on the paragraph level. Long-form content At Niched AI, we are focused […]
Ivan Radunovic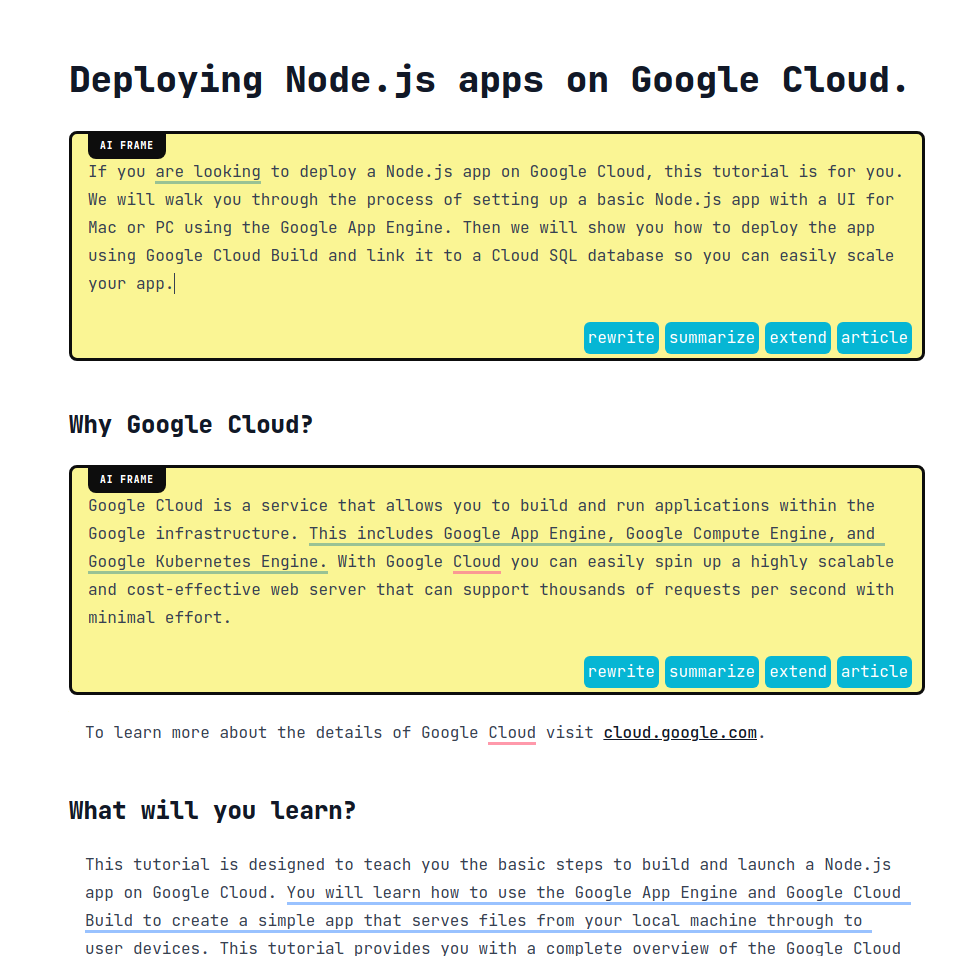 Niched AI editor is specially developed for long-form writing. It can create an entire post based only on one sentence which describes what needs to be written. After the post is generated by double-clicking, you can invoke the AI frame and rewrite text on the paragraph level.
Long-form content
At Niched AI, we are focused on article writing and blogging.
Most AI models out there are very good at creating big chunks of text, but they are not so good at rewriting specific paragraphs.
Usually, after content is generated, you would use another AI tool to copy and paste specific paragraphs and rewrite them.
Some existing models can accept many paragraphs, but the output quality decreases as you add more content.
That's why we decided to equip our text editor with paragraph-level AI rewriting.
Working with Niched AI Editor
In the lines below, I'll explain how the editor is used step-by-step.
Creating a post
To create a new post, click on + New post button in the sidebar.
Choose the title for your reference. You can update it later.
After creating the post, you'll be redirected to the empty editor.
Click anywhere, and type what AI should write about.
To activate AI Frame on this paragraph, double-click this sentence.
AI Frame options
You can see possible actions at the bottom right corner of an AI Frame. These actions will tell the AI model what to do with the provided input paragraph.
rewrite – provided paragraph will be rewritten
summarize – paragraph will be summarized
extend – new content will be appended
article – input paragraph will act as instruction for the AI model, and the entire article will be written based on the input
Using AI actions
In this case, I'll choose article action.
Generating content takes some time, so be patient and stay on the same page.
After a couple of seconds, Niched AI outputs a response.
Now at the bottom, you'll see additional buttons in pink color:
These buttons ask you what you want to do with generated content from inside AI Frame.
Insert will append content to existing text in the editor; Replace will switch the input paragraph with the generated content; Ignore will do nothing, and the AI frame will be closed.
I'll choose the insert option.
Modify paragraphs
The generated post is very long, and passing their entire content to the AI model makes no sense.
Instead, you can activate the AI frame over specific paragraphs, modify them only, and leave the rest of the content as is.
Grammarly support
You'll notice that there are many highlights in the generated text; those are Grammarly suggestions.
By clicking on the highlighted text, Grammarly will open a modal with the details about suggestions.
Publishing to the site
In the top navbar in the right corner, you'll find three buttons:
If your project has a connection to the WP site, you'll see that site listed in the Publish modal. You can choose to publish the post directly to the blog.
In some cases, WordPress themes have custom structures, so it's always a good idea to test how the post looks in the Draft mode before publishing it on the site. Option Draft/Live is deciding how do you want to save this post on the WordPress side.